HOME INSPECTIONS
FOR BUYERS & SELLERS
HAVE YOUR HOME INSPECTED
BY A CERTIFIED MASTER INSPECTOR
As a Certified Master Inspector, I provide industry-leading home inspections in the entire Northeast Ohio area. My home inspections cover every aspect of all of your home's major systems. But it also covers maintenance items, things to look out for, and other information to help you become a confident homeowner. I invite you to join me on your home inspection and see what I see, and to have a chance to ask any questions you have on-site. I am also available to talk and answer your questions before your home inspection, and well after your inspection.
MY INSPECTIONS
WHAT IS INCLUDED
I provide a truly thorough home inspection for my clients. I inspect hundreds of items and components in your home and take into account thousands of possible scenarios. Below are just a few of the items I inspect:
ROOF & EXTERIORS
DECKS, PORCHES, & PATIOS
THE ENTIRE STRUCTURE
BASEMENTS, ATTICS, & CRAWLSPACES
CHIMNEYS & FIREPLACES
HVAC SYSTEM
ELECTRICAL SYSTEM
PLUMBING SYSTEM
INSULATION
DOORS & WINDOWS
ALL LIVING SPACES
& MORE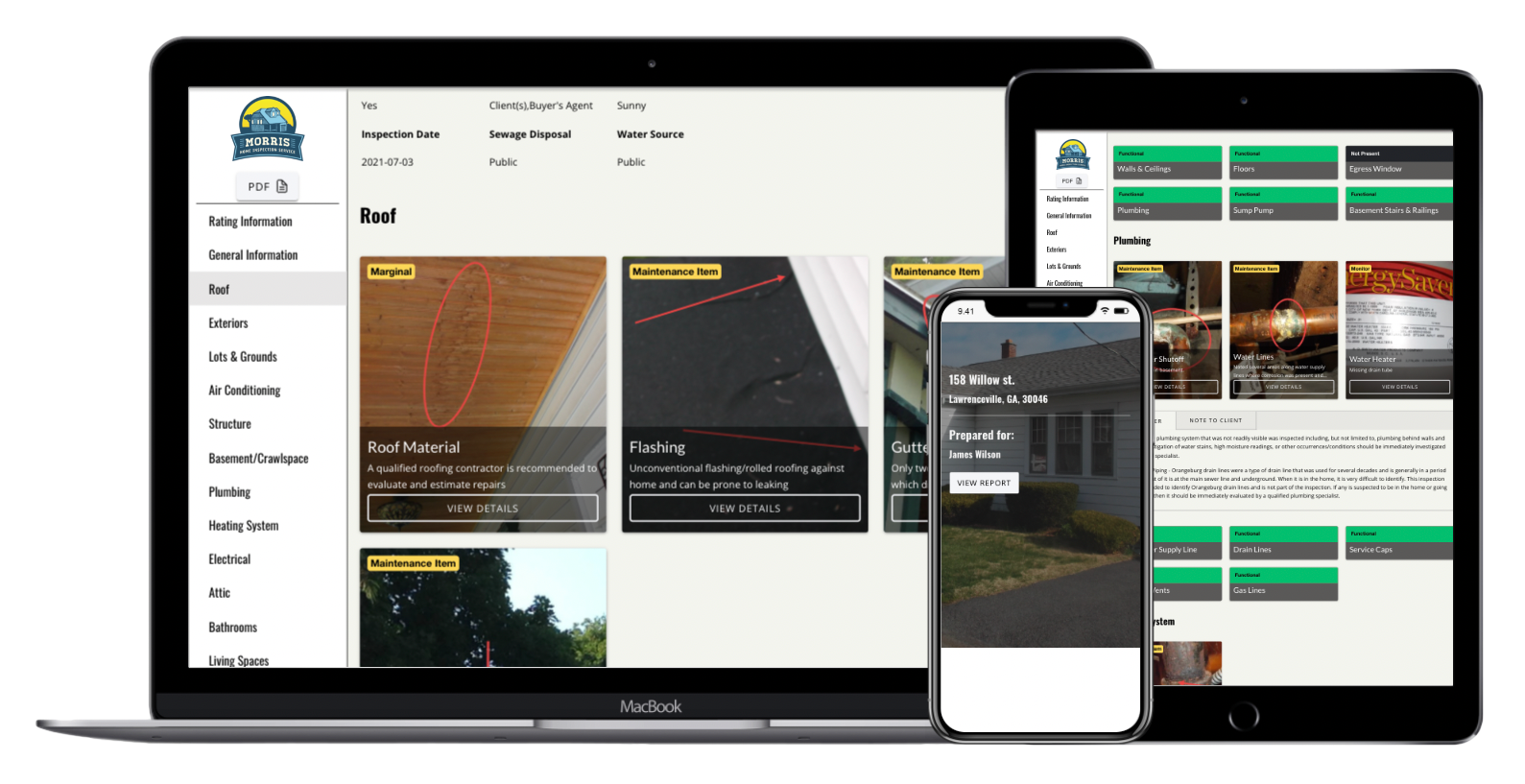 TRULY PROFESSIONAL REPORTS
EASY TO READ AND UNDERSTAND
After your home inspection is complete, I provide you with a thorough home inspection report. My reports leave nothing to the imagination. They are very detailed and outline every aspect of your home inspection. But while they are detailed, they are also easy to read and understand – because after all, what good is a thorough home inspection if you don't understand the information and know what to do with it afterward. Our reports are delivered electronically and in a timely manner, ensuring that you have the information you need, when you need it most.
Electronic Reports Delivered By Email
Clear Pictures & Descriptions of the issues
Accurate Descriptions & Clear References
SERVING NORTHEAST OHIO
Morris Home Inspection Service – providing Home Inspections in Avon, Avon Lake, Cleveland, Euclid, Lakewood, Cleveland Heights, Bedford, Lorain, Sheffield Lake, Mentor, Painesville, & all surrounding areas!